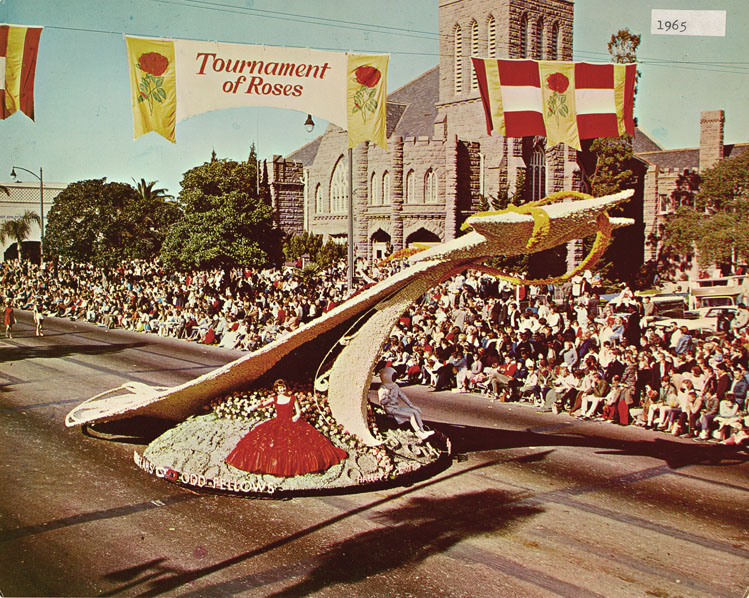 "HEADLINES IN FLOWERS"
January 1, 1965 this, our eleventh float entitled "Halley's Comet Passes the Moon", was entered in the Tournament of Roses Parade at Pasadena, California.
We took second prize, the Red Rose Award, in the Fraternal Division which had four participants. This prize gives us nine winners out of eleven entries.
Our beautiful float was covered with 100,000 white, yellow and red mums, 50,000 dollar size eucalyptus leaves covered the moon with 50,000 silver leaves to outline the smoke rings. Orange and pink carnations, orange calendula and daffodils were used on the flame.
There were many distinguished guests present including our Sovereign Grand Master, Kermit R. Cofer, ? McCauley, International President of the I. A. R. A. and LeRoy Scolari, Grand Master of California. Other past and present officers of California and Arizona attended to help work and entertain many officers of all Branches of Odd Fellowship.
The value of this advertising media is something to consider. It is estimated that 2 million see the parade in person on the streets of Pasadena and another 100 million see it on television. With our investment of $5,500 the Order is represented at a low cost per thousand viewers.
Paul D. Bishop, PGP, Chairman of the Float Committee.