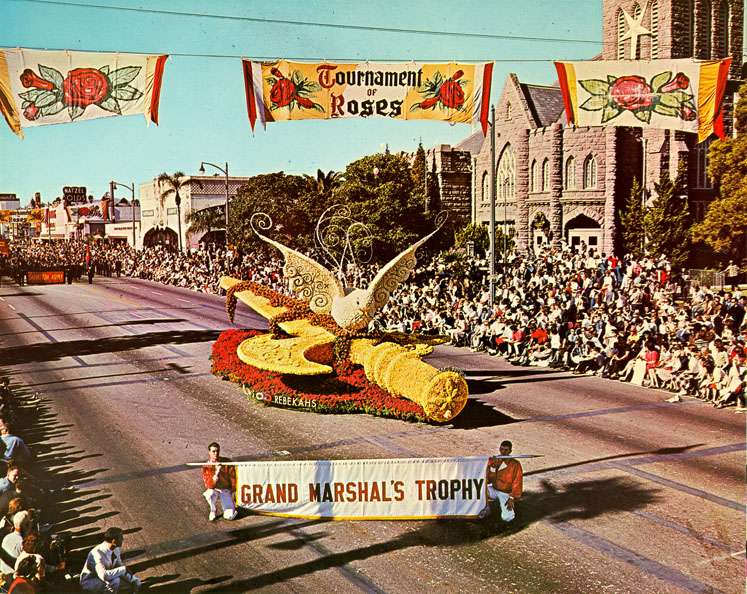 This beautiful float entitled "Let Peace Prevail" took the Grand Marshal Trophy in the Tournament of Roses Parade, the theme of which was "Symbols Of Freedom", at Pasadena, California, January 1, 1964. It is the tenth float to be entered by Odd Fellows and Rebekahs in this annual event. The trophy is one of six coveted awards to which we are eligible in a non commercial classification. It means nothing to us financially but is given in recognition of the work and artistry that went into our presentation. The judges make frequent inspections during the three days the floats are being decorated and the final judging is done in the starting area at 7 A.M. on January first.
A 55-foot sword covered with bronze and yellow mums to make it look rusty lay in a bed of 10,500 red roses, each in its own vial of water, and growing over the sword were vines and 3,000 talisman colored carnations. The dove standing on the sword was made of 5,000 petite white mums and the ornate tail feathers were covered with white gladiolus petals.
With the quality of help available we should take a prize. Among those participating were C. Edward Murphy, Sovereign Grand Master; George Hannaford, Grand Master of California; Vivian Kara, President of the Rebekah Assembly of California; and Jack Bradshaw, Grand Patriarch of the Grand Encampment of California, as well as Grand Officers from several other jurisdictions. Of course, the bulk of the work was done by a crew of about 40 Odd Fellows, Rebekahs, Junior Odd Fellows and Theta Rho Girls which saves the committee about $1200 on the cost of the float.
It is estimated that two million people saw our float go down the street and another ninety million saw it on television, which is good coverage for any advertising media. President Eisenhower was the Grand Marshal.
Paul D. Bishop, PGP, Chairman of the Float Committee.