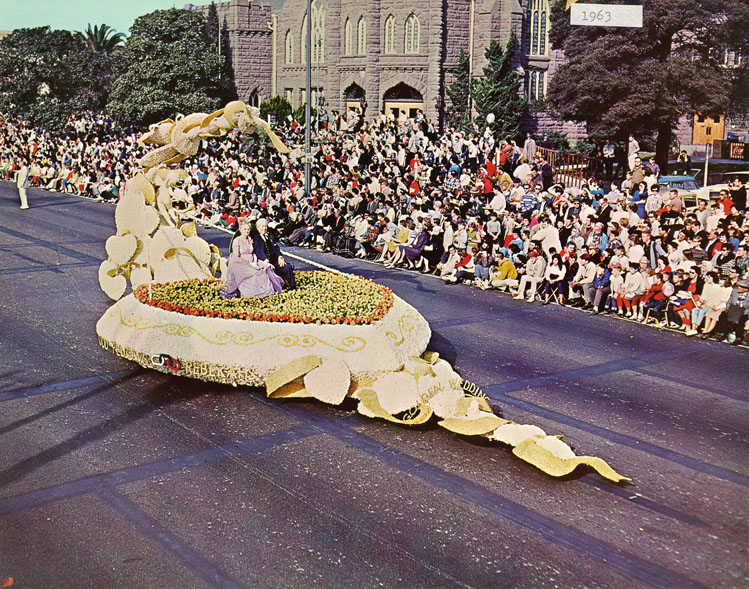 This is the ninth float the ODD FELLOWS and REBEKAHS have entered in the Tournament of Roses Parade at Pasadena, California, held January first of each year. We took Second Prize in our division of Fraternal, Patriotic and Musical Organizations. The parade theme was "Memorable Moments" and our theme was "Golden Wedding" with Brother and Sister Fay H. Murphy riding the float to celebrate their FIFTIETH WEDDING ANNIVERSARY which was January 1, 1963. Brother Murphy belongs to the Odd Fellows and both are Rebekahs at Paradise, Calif. The cost of the float was $5500 plus $150 promotional costs. There were approximately 1000 hours of donated labor from Odd Fellows, Rebekahs, Theta Rho Girls and Junior Odd Fellows in placing the flowers on the float under the supervision of our contractor.
About 100,000 white mums were used to cover the sides and hearts. Cupid was covered with white rose petals. The supports at rear were covered with white stock and 5,000 yellow roses filled the center of the large heart with two rows of talisman roses outlining the heart.
The presiding officers of every branch of our order in California and those in line worked on the float, also the Sovereign Grand Master, Brother Oakford Schalick and Sister Eva Thurston, President of the I.A.R.A. and other notables.
Paul D. Bishop, PGP, Chairman of the Float Committee.