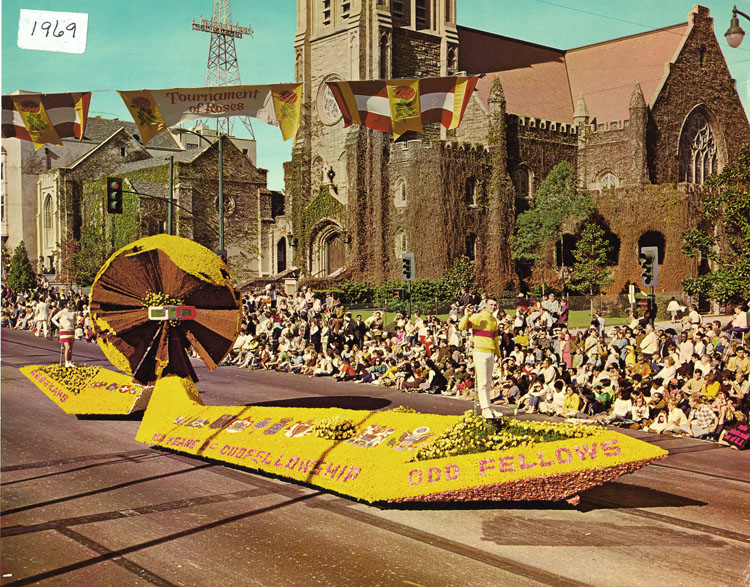 Our float entitled "150 YEARS OF ODD FELLOWSHIP" took third prize in the Fraternal Division.
Parade Theme: "A TIME TO REMEMBER".
The Float was 55 feet long and 12 feet wide, with Globe 10 feet in diameter and 3 feet off the ground, the world rotated near the center.
Gerry Milbourne, Grand Ruler of the Grand Junior Lodge of California, stood in a bed of Yellow Roses on the front and Linda Martinez, President of the Theta Rho Assembly of California, stood in a bed of Yellow Roses on the rear section as representatives of the Youth of our Order.
Fourteen Seals on each side of the float represent the fourteen countries which host Odd Fellow Lodges. 150,000 yellow mums covered the main body of the float and the continents of the globe, 5,000 yellow roses were also on the ends of the float. Other leaves, seeds and bark used were chive seeds, carrot seeds, Alyssium seed, Dock seed, flax seed, lettuce seed. Statice petals, hybrid delphinium petals, red and white petals from carnations were used on the Seals of the Countries, making this a very attractive float.
Paul D. Bishop, PGP, Chairman of the Float Committee.