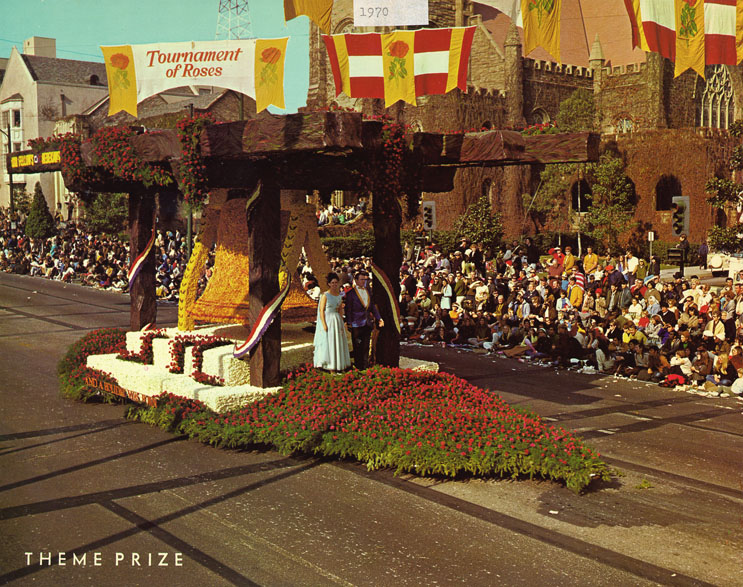 "HOLIDAYS AROUND THE WORLD"
Your float for 1970 "And A Holiday Was Born" took THEME PRIZE third from the top. If is symbolic of independence day of all free countries in the world. It represents all Odd Fellows and Rebekahs in the world.
The float is 55' long, 20' wide and 17' high. It shows 6 massive beams, supported by 4 posts, covered with Ti leaves from Hawaii. (Approx. 2200 sq. ft. of leaves.) The large liberty bell suspended from the arch, is covered with bronze Mums and it and the arch are decorated with yellow Mums, Radish and Onion seed. The deck is covered with white Mums. The front and rear are covered with Evergreen, Fern and thousands of, "Forever Yours Roses," which also entwine around the beams.
Riding your float is Wade Marshall, Grand Ruler of Grand Jr. Lodge and Sherry Ward, Pres. of the Theta Rho Assembly of California.
Those in charge of the decoration, (the workers) were, Elmo Ellis, Chas. Boling and Jess Tobey, of the Deputies Assoc. and many volunteers from all branches of the Order. Especially our youth. They will be back next year. If we are lucky enough to be invited, and if you will continue to furnish the financial support.
Robert Haynes, Chairman of the Float Committee.