What's New
Float Decoration 101
Articles of Incorporation Rev.
June 2013 IRS Affirmation
June 2013 501c(3) Status
Frequently Asked Questions
Kristina's Project
1.5 Minute 2014 Promo

This Year's Float
Our Mission
Individual Sponsors
Lodge Sponsors
2014 Float
Calendar of Events

Recent Years
2014 Float
2013 Float
2012 Float
2011 Float
2010 Float

Float History
1908 to 2014

Downloadable Forms
(in .PDF format)
Corporate Sponsorship
Corporate Sponsorship Program

About Isabella Coleman
Decorating Schedule
Lodging
Welcome
Suggestions for Decorators
Memorial Garden
Membership Application

(password protected)
(contact us for password)

2012 IRS Form-990
2012 CA Form-199

TICKETS & MEMORABILIA

Shop Online
Our PayPal Store
Souvenir Programs

Order by Mail
(in .PDF format)
Game and Parade
Programs
Game and Programs
Pins & Things
T-Shirts
2013 T-Shirt Picture
2014 T-Shirt Picture

Misc
Privacy
Pasadena Map
Contact Us
Links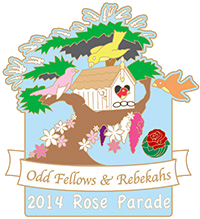 Note: to watch video clips from our web pages using a Windows PC you must install Apple's QuickTime for Windows,
or download the video files to your PC using the provided links.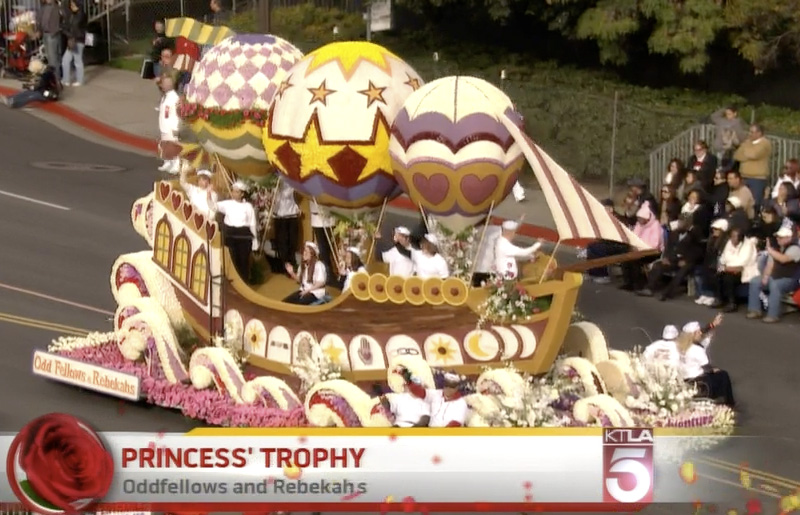 On January 1, 2013 the Odd Fellows and Rebekahs Rose Parade float, Elevated Adventure, received the Princess' Trophy from the Tournament of Roses for the most beautiful entry in the 35' and under class. This is our 4th consecutive trophy, as our 2010, 2011 and 2012 floats all received either the Princess' or Isabella Coleman trophy. The honorary ship's captain of our 2013 float, seated on the starboard fore quarter is Rodney Metoyer, Grand Master of the Grand Lodge of California, IOOF.
Odd Fellows and Rebekahs floats have often been recognized by the parade judges over the past half century for the complex and painstakingly precise detail of our artistic workmanship. The float is decorated during the last weeks of December each year by dozens of members of the Independent Order of Odd Fellows (IOOF) who congregate in Southern California for a few days of comradery, fellowship and sunny weather. These volunteers come from all the affiliated orders of the IOOF around the world; the Odd Fellows, Rebekahs, Encampments, Cantons, Junior Odd Fellows and girl's Theta Rho lodges. Members of the IOOF who have performed extraordinary fraternal or civic service are often invited to ride on the float. For instance, one of the riders of the 2011 float was Arlene Boatright, a 90 year old Rebekah who came to the assistance of a young woman who had been stabbed. Come join us and be part of the fun!
Our float is viewed by approximately 700,000 people who line the 5 mile parade route and by at least 70 million more via national and international television broadcasts. It is even viewed in China. This is truly a very large viewing audience that sees our work of art, hears our name, and learns of our fraternal mission.
Please be patient while these video clips and photos download to your computer.
Watch the 2013 telecast in HD.
The entire surface of a Rose Parade float MUST be covered in natural materials such as seeds, beans, grains, fruits, vegetables, tree bark, leaves, dried flowers, fresh flowers, etc... The surfaces that appear to be "painted" are actually coated with an underlayer of white glue upon which is manually dabbed powdered floral material which is prepared by grinding seeds and flower petals into a fine dust. Many different floral materials are required to achieve the range of colors.
Follow the decoration process in these 2013 photos and video clips.
Watch the 2012 telecast in HD and 2012 photos.
Watch the 2011 telecast in HD.
Watch the 2010 telecast.
Watch the 1993 telecast.
Watch the 1983 telecast.